If you're a pet owner, then you know that taking care of your furry friends is a responsibility that should not be taken lightly.
That's why when it comes to finding the best guinea pig cage, you need to do your research so that you can make sure your little guy has the perfect home.
In this blog post we'll name our top picks, as well as give you tips on what to look for when choosing a guinea pig cage!
So keep reading to learn more.

BEST GUINEA PIG CAGES
1) COTTAGE
The Cottage guinea pig cage from Coops and Cages is the perfect backyard home for up to two guinea pigs.
It has a sheltered house area for them to hide away and an open run area with enough space to exercise. The Cottage is a super cute design and available in 3 colour options to suit any backyard.
BEST FEATURES
Run section has 2 large doors for quick access to your guinea pigs
Metal pull out tray for easy cleaning
Available in pink, brown or yellow
2) FLORIDA
The Florida wood hutch comes in second place for its stylish turquoise and white design.
It can comfortably house two guinea pigs and has a leak proof asphalt roof the whole way along to protect your piggies from the rain or harsh sun.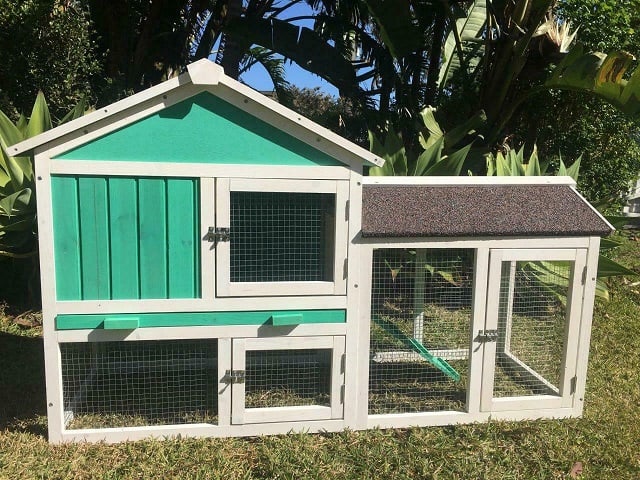 FLORIDA
BEST FEATURES
Brightly coloured

Fully covered, waterproof roof

Easy access for cleaning with 3 opening doors
3) CARMINE & RUN
The Carmine guinea pig cage package features a timber house and a wire mesh run.
The house section has an opening roof and there's a resting box on the side with an opening lid.
A wire mesh window on the house lets your guinea pigs enjoy the fresh air, while the run gives them space to enjoy the outdoors safely.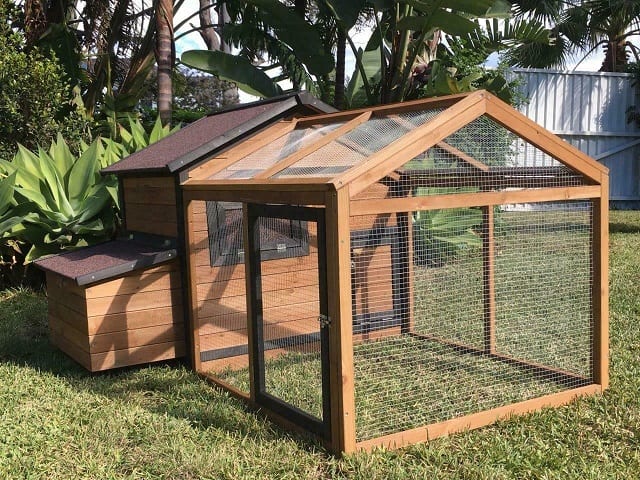 CARMINE & RUN
BEST FEATURES
House section has an opening roof

Opening window with wire mesh for ventilation

Slide out metal tray for stress free cleaning
4) DELUXE DOUBLE
The Deluxe Double guinea pig cage by Somerzby features 2 levels and plenty of room for four guinea pigs.
You can use it as one big hutch or close the door at the top of the ramp to create two separated levels.
Each level features stainless steel mosquito screens to keep your guinea pigs safe from disease and a slide out tray for simple cleaning.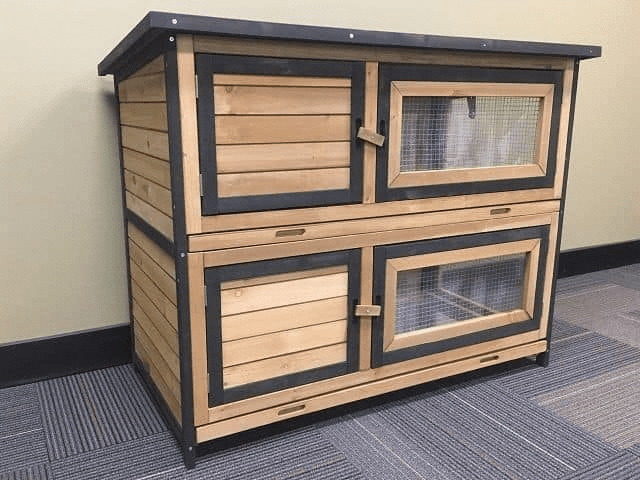 DELUXE DOUBLE
BEST FEATURES
Suitable for use indoors, outdoors or on a deck/patio

Levels can be separated to create a breeding bank

Stainless steel mosquito/fly screens on each window

5) RED RESORT
This spacious cage provides a comfortable living space for multiple guinea pigs.
Featuring a stunning red stain, rot resistant timber and heaps of run space, the Red Resort is a deluxe habitat!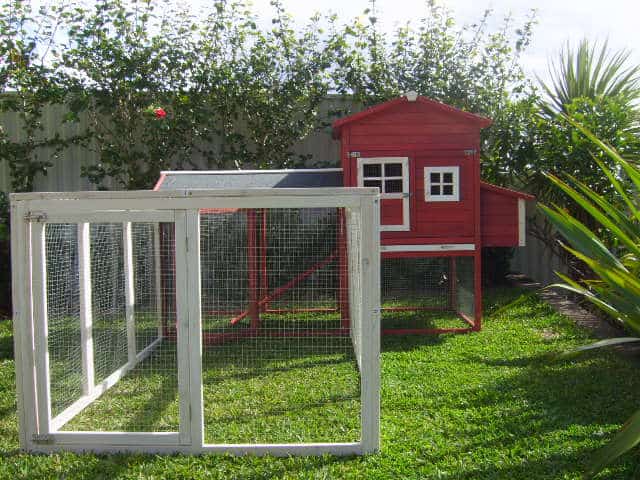 RED RESORT
BEST FEATURES
Extra large cage – external dimensions are L225cm x H143cm x W94cm

Entire front of the house section opens for easy access

Plenty of room to include a hay feeder, tip proof food dish and water bottle
6) TUDOR
We love the Tudor guinea pig cage for its stylish yet functional design.
The entire front, roof, resting box and run all open up for easy access to all sections of the wood hutch.
It also has a metal pull out tray for fast cleaning. The stylish charcoal colour makes the Tudor a great addition to any backyard.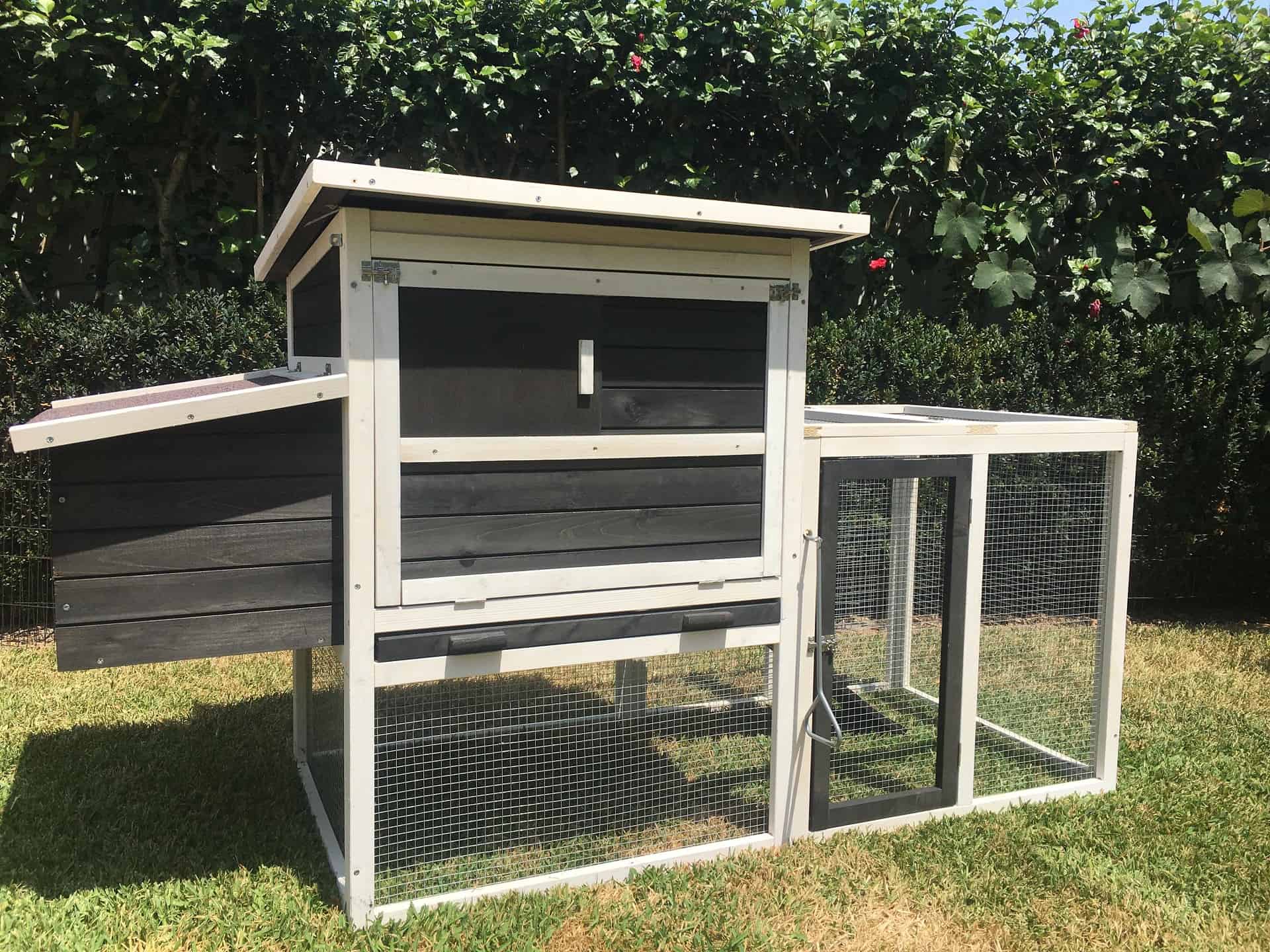 TUDOR
BEST FEATURES
Easy to access – lots of opening sections

Metal slide out tray for cleaning

Stylish colour scheme
7) VILLA
The Somerzby Villa guinea pig cage features 2 levels to maximise play space.
The upper level features a pull out tray for easy cleaning and a sheltered area for sleeping and protection from the elements.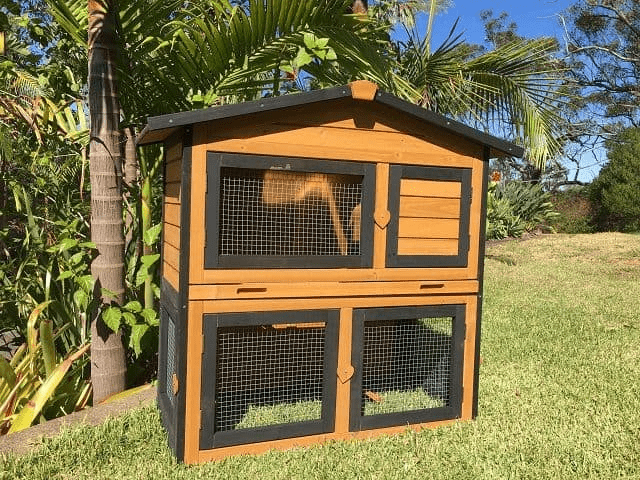 VILLA
BEST FEATURES
Small animal cage – suitable for a single guinea pig or 2 two guinea pigs maximum

The timber is safe for your guinea pigs to chew on. It is coated in non-toxic, water-based stain.

Galvanised wire mesh
8) HOLLY
Your guinea pig prefers fresh grass and you prefer a nice lawn! If you're looking for an easy way to help your guinea pigs graze on fresh grass, the Holly is the best guinea pig cage.
This tractor-style guinea habitat is mobile, so you can easily move it around your yard. We also like the modern colour scheme and window for ventilation.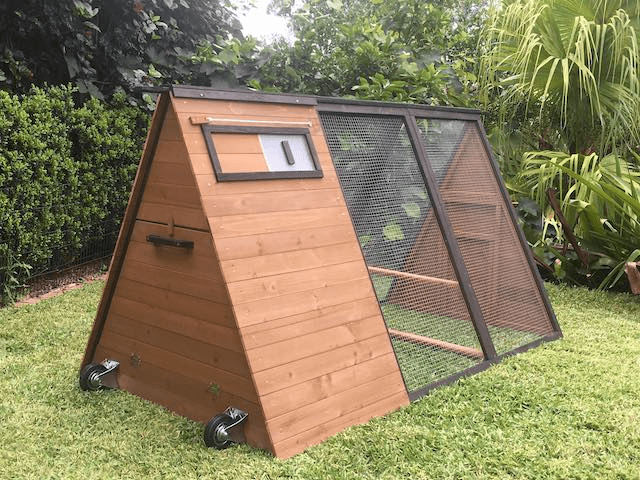 HOLLY
BEST FEATURES
Large wheels and handle at each end so easy to move with one person

Opens at both ends and large door on the side of the run

Sliding window for fresh air

9) LEXI PORTABLE INDOOR CAGE
The Lexi Portable Indoor Cage is a great indoor guinea pig or rabbit cage. It may also be suitable for other pets such as ferrets.
We think it is one of the best guinea pig cages because it is on wheels and the plastic bottom slides out for fast cleaning.
It's sturdy, chew proof frame assures it is a long lasting enclosure that will keep other animals out. We recommend Lexi for up to two guinea pigs.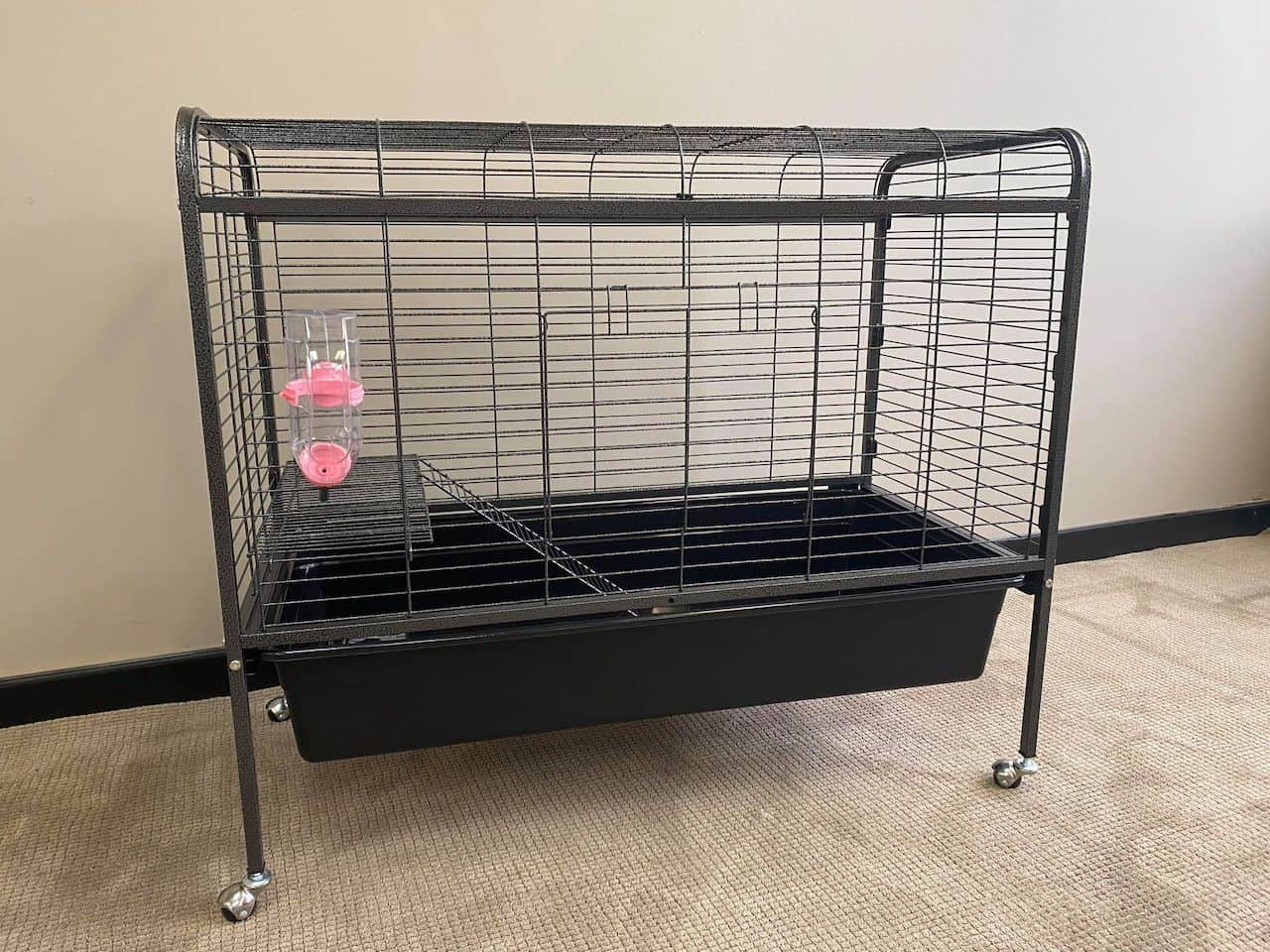 LEXI PORTABLE INDOOR CAGE
BEST FEATURES
Castor wheels – easy to move

Deep plastic base that is easy to pull out and clean. We recommend lining the base with wood shavings.

Bonus water bottle
10) RESORT RUN
The Resort Run guinea pig cage can be used to give your guinea pigs some exercise outdoors while staying safe.
Guinea pigs tend to wander off so a run like this will keep them from disappearing.
The floor space has no wire mesh on the base which helps protect your guinea pig's feet and allows them to eat the grass.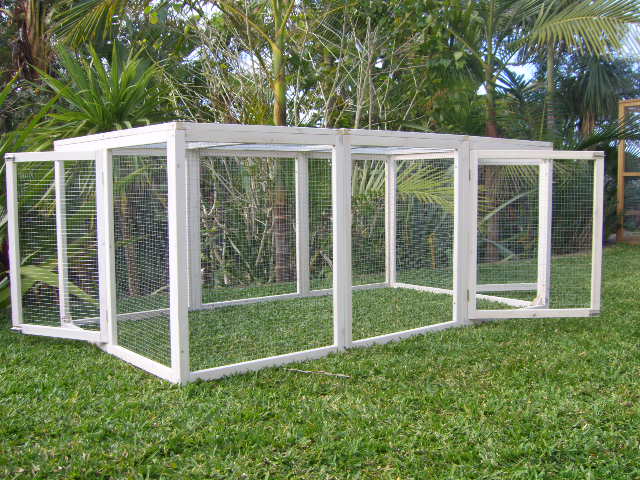 RESORT RUN
BEST FEATURES
Lots of floor space to run around outside

No wire mesh on the base so is comfortable on guinea pig feet

Long lasting, rot resistant timber
WHAT TO LOOK FOR IN A GUINEA PIG CAGE
When it comes to guinea pig cages, not all are created equal.
There are a few features you'll want to look for when shopping for your new furry friend's home.
By keeping these things in mind, you're sure to find the perfect guinea pig cage!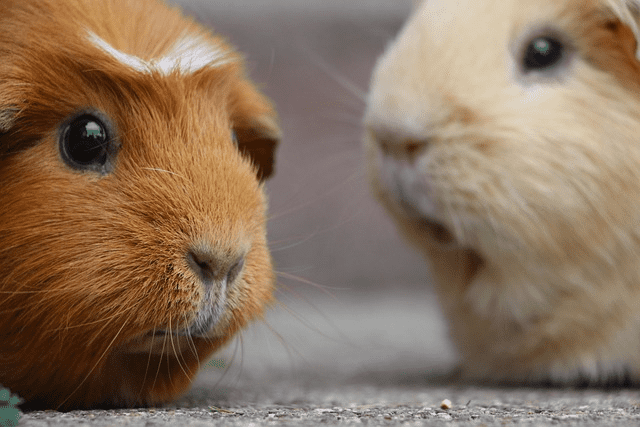 THINGS TO LOOK FOR IN A GUINEA HUTCH
SUFFICIENT SPACE
Size is one of the most important considerations for pet parents — guinea pig cages need to be big enough for your guinea pigs to move around in, with room to explore.
Just because they are little pets doesn't mean guinea pigs don't need plenty of space!
When purchasing, consider how many guinea pigs you plan to own in the future and how much space they will need.
Guinea pig cages must also allow room for additional guinea pig belongings – water bottle, hay rack or other types of hay feeders, feeding bowl, and igloos for them to hide under.
EASY CLEANING
Guinea pigs need to be cleaned out very regularly. If you let your guinea pig's cage floor get too dirty, it can smell bad and lead to your guinea pigs feet becoming sore.
Choose a wood hutch that is easy to reach into and access for cleaning. You ideally want full width double doors or an opening roof.
A wood hutch with a slide out metal or plastic bottom makes cleaning hassle free. Simple pull out the metal or plastic base, tip the dirty bedding into the bin and replace with fresh bedding.