Many Australian local councils now require cat owners to keep their pets on their own premises.
In some areas, this is a curfew where cats are not allowed to roam freely after dark. But in other areas, cats must be kept on their own property at all times.
Most areas will make an exception and allow cats onto council land if they are on a leash or in a carrier.
These new laws see pet owners facing up to $1,600 in fines if their cats stray and are caught by rangers. It is the beginning of rules for cats matching up with the rules for unleashed dogs and may eventually become a nation wide restriction.
Most people surveyed are enthusiastic about the new laws, agreeing the rules are one measure to protect native animals and wildlife.
They will also ensure the safety and well being of domestic cats, minimise cat attacks, and stop cats causing nuisance for neighbours.
However, others are unhappy. The rules are seen as taking away the domestic cats basic freedoms and costing owners extra money. They believe feral cats are the ones that kill wildlife.

Curfews for Pet Cats by Location
These cat curfew rules are currently enforced by local councils. However, they are being considered at the state government level for future generations .
It is important to be aware of what the rules are within your area to avoid any potential fines. Rules regularly change so please contact your local council for requirements in your area.
Melbourne
Many local councils in Victoria have already introduced cat curfew laws. These include Bayside, Bendigo, Darebin, Knox Council, Mitchell Shire, Monash, Whitehorse and Yarra Ranges.
Some areas, such as Mitchell Shire, only require cats to be contained after dark.
In Bendigo, if cats are caught roaming the streets after dark they are detained and their owners must pay $120 to reclaim them from the city.
Taking it one step further, on 10 April 2022, Knox City Council Mayor Cr Lisa Cooper introduced a 24 hour cat curfew for Knox Council, meaning cats must not leave their owners property at all.
This was originally scheduled to begin 1 October 2021 but was postponed. Lisa Cooper said the delay would allow Knox City Council cat owners more time to prepare their homes and slowly work on behavioural changes.
Adelaide
In the Adelaide Hills, you were previously not allowed to let your cats roam on council land between 8pm and 7am.
However, in January 2022 they brought in stricter rules to say that cats cannot be on council land (outside their owner's control) 24 hours per day.
Canberra
Currently, all new Canberra suburbs require cats to be contained.
Starting 1 July 2022, stricter city wide rules will mean all new cats in every Canberra suburb will have a 24 hour cat curfew.
This rule will not apply to cats owned before 1 July 2022 (other than those living in the new suburbs) as the government is concerned for the older cats well being and basic rights. they understand it may be difficult for older cats to adjust to containment.
Cats caught breaking the rules face a $1,600 fine.
Perth
Many local councils in Western Australia are currently developing cat curfew laws.
They plan to create a 24 curfew where cats cannot leave your property unless on a leash or contained in a pet carrier. However, the rules have not come into effect yet.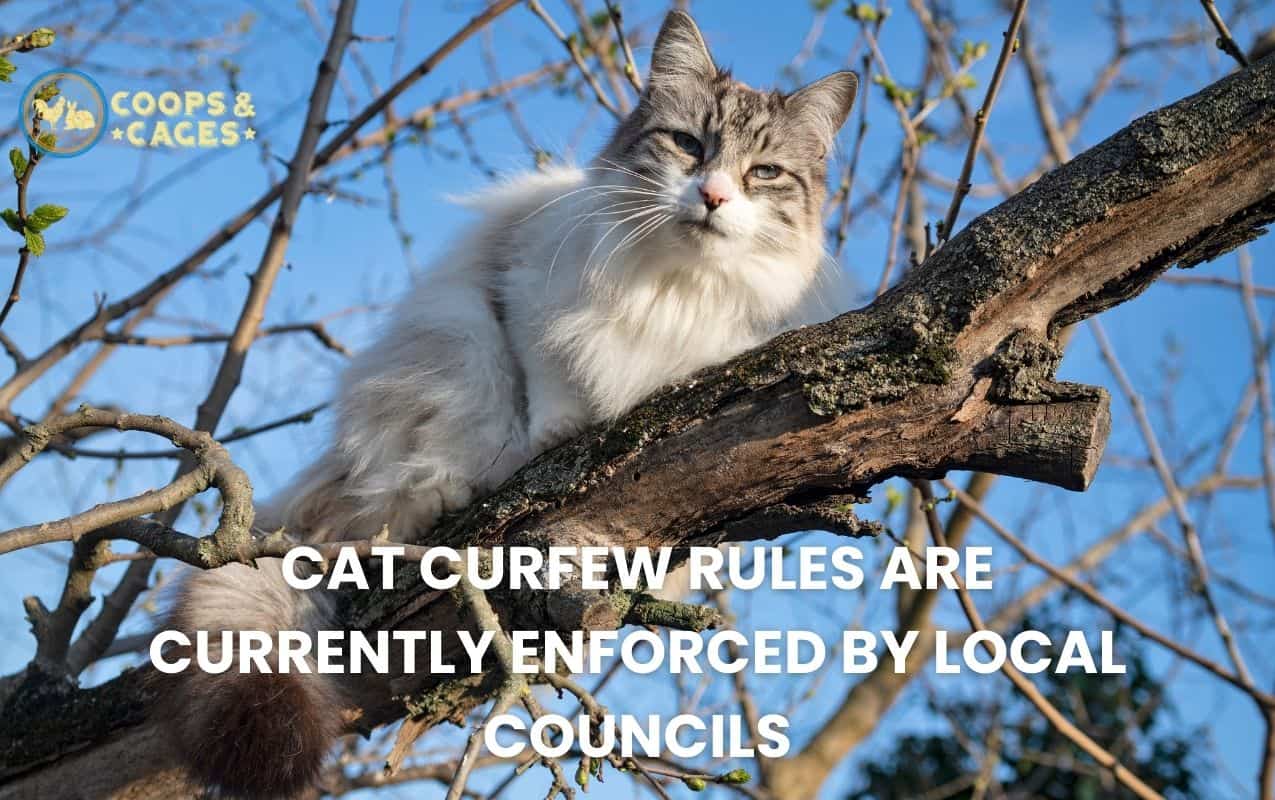 What does this mean for Cat owners
There are a lot of new rules. But what do they actually mean?
FINES & FEES
If your cat is caught roaming on council land by a local ranger, you will be fined plus may also have to pay an additional fee to get your cat back.
Most local councils bringing in these new rules are allowing a six month grace period where people will just be given a warning.
During this introductory period, councils will focus on educating the public, assisting them with new adjustments and allowing them time to prepare their homes.
Some are also offering other incentives such as free micro-chipping.

Containing your cat
The new law means that domestic cats cannot go onto council land unless they are under your control (on a leash or in a carrier).
People may choose to keep their cat inside their house 24/7.
Cats can also be contained in an outdoor cat enclosure in your backyard. Coops and Cages provide a wide range of outdoor cat enclosures to suit any backyard.
They allow your kitty to enjoy the fresh air and sunshine without the risk of wandering off.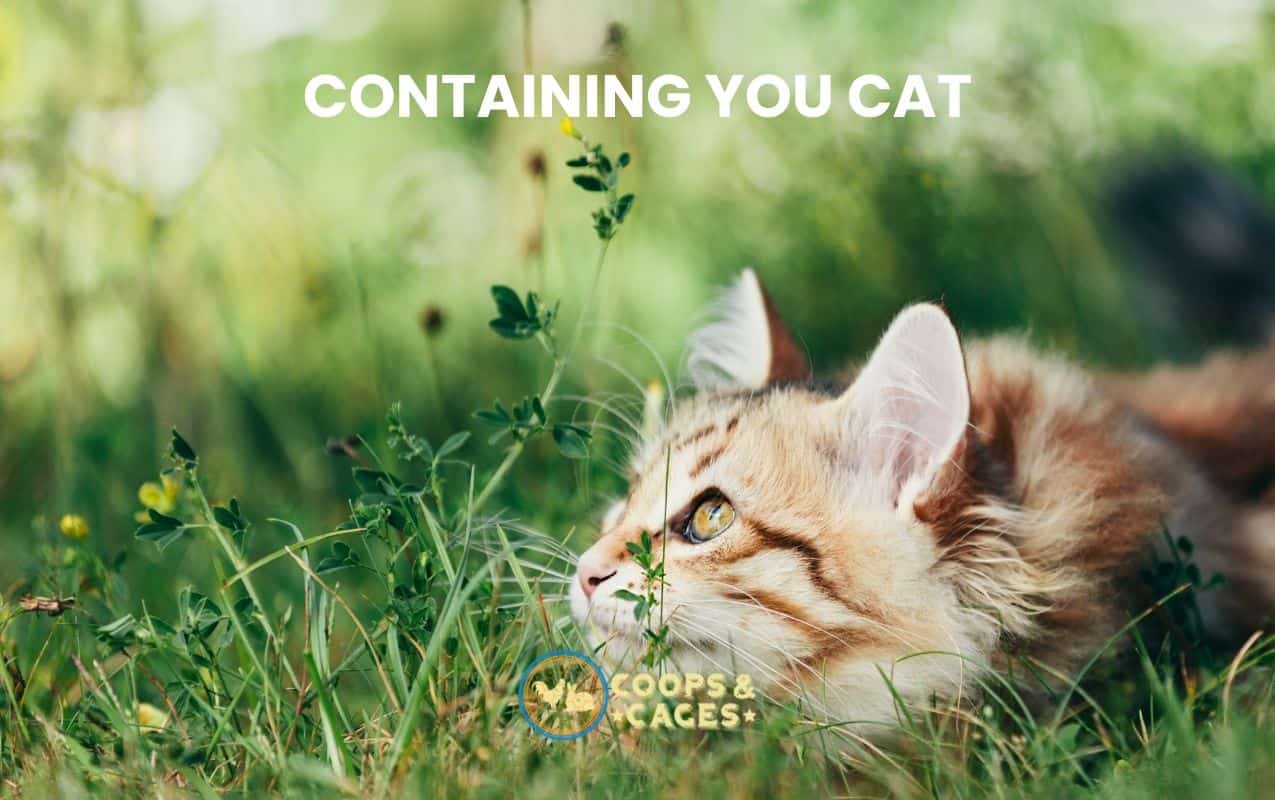 THE NEW CAT CURFEW LAWS
The new law means that domestic cats cannot go onto council land unless they are under your control (on a leash or in a carrier).
How Big Should a Cat Enclosure Be?
When designing the perfect home for your cat, there are a number of factors to consider. One important factor is the size of the enclosure.
Cats come in all shapes and sizes, so it's important to choose an enclosure that will be comfortable for your cat and provide enough space for them to move around.
If you have a small cat, a smaller enclosure may be sufficient. But if you have a large cat, you'll need to make sure the enclosure is large enough for them to move around comfortably.
You should also consider the number of cats you have; if you have more than one cat, you'll need a larger enclosure so they can all fit comfortably.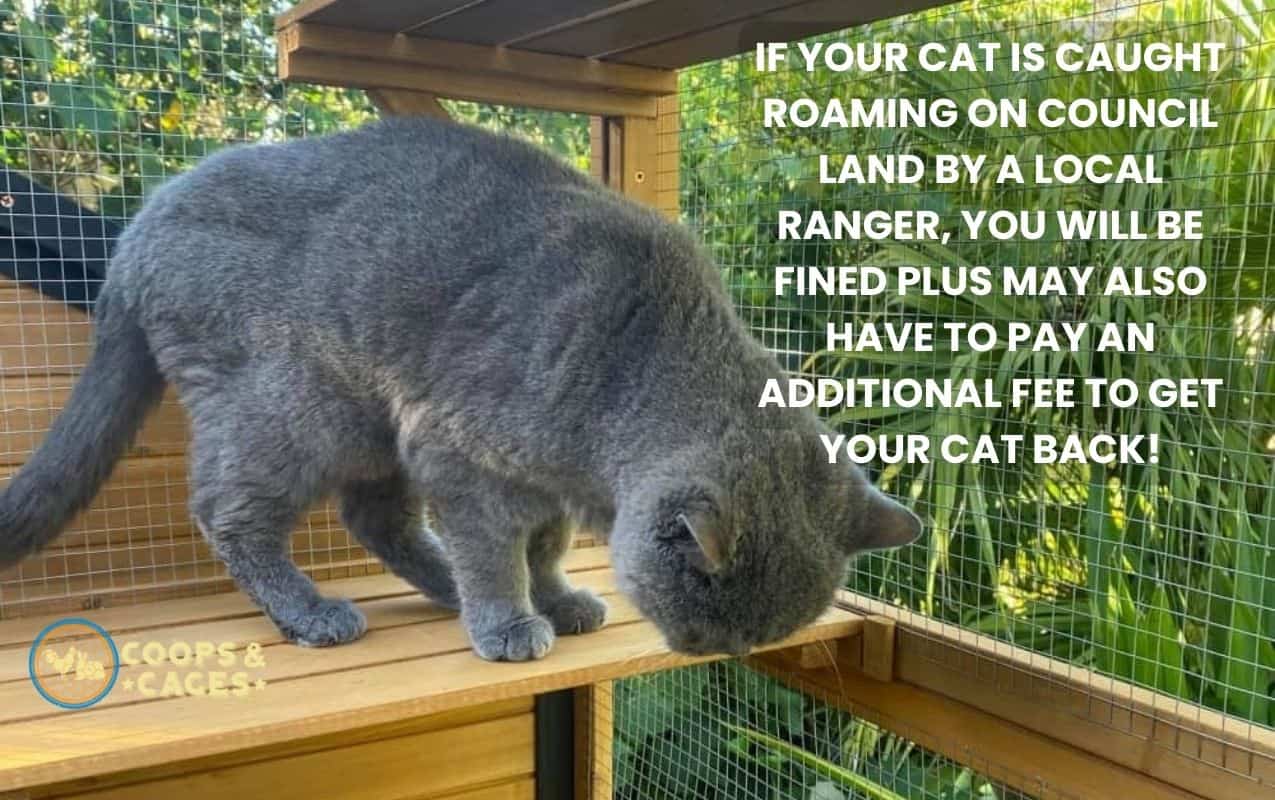 top BENEFITS of keeping your cats indoors
Protects wildlife. It's not just stray cats or feral cats that cause havoc! Domestic cats commonly hunt and injure local wildlife and native animals including birds and reptiles.
Protect cats from traffic.
Stop your cat from running away, getting lost or being stolen.
Cats roaming are at higher risk of being exposed to fleas, ticks and diseases from other cats. This saves money on vet bills and helps pets live longer.
Keeping cats safe from predators and stopping cat fights.
Encourages responsible pet ownership by giving owners total control over where their cat is and what it eats.
Allows owners to spend more time with their fur babies. Cats raised in containment are typically a lot calmer and a lot gentler.
Keeps nuisance cats out of neighbours yards – digging up gardens and bothering other pets.

reference