Spoodles (also known as cockapoos) are hybrids of a cocker spaniel and a poodle. They are highly valued for their intelligence and affectionate nature. Spoodles date back to the 1960s.
Technically, the term 'spoodle' refers to the mix of a poodle crossed with an English cocker spaniel while a 'cockapoo' is the result of a cross with an American cocker spaniel. However, the terms are often used interchangeably.
This breed is renowned for their easy-going, gentle nature combined with a lively and playful intelligence. They are very rarely aggressive and extremely tolerant of children.
They are easily trained and very social animals. They tend to be very long lived dogs and generally possess good health.
Physical Appearance
The spoodle is an adorable dog breed. Their puppies are irresistible and look like little teddy bears.
Because they are a cross breed, their appearance can vary significantly depending on what dogs they were bred from.
They typically take physical features from both cocker spaniels and poodles.
Spoodles have floppy, long ears like a cocker spaniel and big, brown eyes like a poodle.
They have a long tail that is always wagging, showing what a happy breed they truly are. Almost all breeders leave their tails undocked.
Size
The spoodle comes in 3 size variations. This is determined by whether they are crossed with a toy poodle, miniature poodle or standard poodle:
Toy Spoodle – Height: 30-40 cm, weight: 5kg
Miniature Spoodle – Height: 40-51 cm, weight: 7kg
Standard Spoodle – Height: 51-66 cm, weight: 9kg
Some breeders are now beginning to breed teacup toy spoodles which are approximately 2kg.
Coat & Colours
Spoodles have a non shedding coat and are classed as hypoallergenic. In other words, they are suitable for people with dog allergies.
They have a naturally long coat which most owners trim to stay short.
Their coat can come in multiple colours including black, brown, blonde or white. They are sometimes solid colours and sometimes have coloured or white markings.
Temperament
Spoodles make wonderful family pets. They have a great temperament and loving nature, making them suitable for people of all ages including children and the elderly.
They enjoy a cuddle on the lounge but also love to play around with a ball in the backyard.
They are outgoing dogs that enjoy interacting with other pets, even cats, as long as they are socialised with them from an early age. The more things you expose your pet spoodle to at a young age, the more confident and friendly it will become.
They have a high tendency to bark when they see a stranger so make good guard dogs. However, they are too affectionate to ever be aggressive.
Health
Spoodles are overall a very healthy dog breed.
Crossbreeding dogs lowers their likelihood of genetic diseases, making them healthier than purebred dogs.
A hybrid dog with one purebred poodle parent and one purebred cocker spaniel parent will have less genetic health problems than a dog with two spoodle parents.
Problems
The most common health issues in spoodles are allergies (both food allergies and contact allergies), hip dysplasia, dislocating knee caps, progressive retinal atrophy, ear infections and liver disease (there are two forms – copper toxicosis and chronic active hepatitis).
Spoodles can be prone to weight gain so it is important to feed them a balanced diet with limited treats and to exercise them regularly.
Spoodles as Pets
The spoodle is becoming increasingly popular as a family pet due to their friendly and outgoing nature.
Grooming
Like all oodle dog breeds, spoodles require regular grooming. Their grooming needs can vary between individual dogs, depending on what their parents' fur is like.
At home you will need to brush them weekly to remove tangles from their fur.
It is recommended you take your pet spoodle to a professional for grooming every six weeks to have their hair washed, trimmed, nails cut and tear stains wiped from their eyes. Your spoodle's ears will also need to be cleaned out often to avoid ear infections.
Brush its teeth regularly at home or feed it dog dental treats to prevent gum disease.
Exercise Requirements
Spoodles are high energy dogs, especially the standard sized variety.
Exercise your dog with a daily walk to help wear it out both physically and mentally. Taking it to the dog park will exercise it as well as allow your spoodle to interact with other dogs.
How much space a spoodle needs will depend on which size variation it is. A smaller spoodle can handle a smaller living space while a bigger spoodle will need a larger backyard.
Training
The spoodle is an intelligent dog and usually toilet trains very quickly. They respond well to patience and positive reinforcement.
Spoodles naturally don't like to be left alone for long periods of time. It is important to train your dog to be by itself early on, to prevent separation anxiety from developing. If your dog is anxious when you leave, it can lead to excessive barking and destructive behaviour.
They can learn many tricks and do well in obedience. This ability largely comes from their poodle heritage. Poodles are known to be very smart and thrive in dog shows.
Whilst training is key as a puppy, you should continue to teach your spoodle through all its adult life.
Spoodles for Sale
Once you decide to welcome a pet spoodle into your family, you will need to do some research about where to buy one. Let us help…
Where to Buy and Price
Designer dogs, such as poodle mixes, are becoming increasingly popular.
Spoodles especially are a popular choice for families with children. They are therefore more expensive.
Spoodle Puppies
A pet spoodle puppy will cost between $2,500-5,500 from a breeder. It may cost extra if you require the puppy to be delivered to you, especially if it has to travel on a plane.
There is a high demand for spoodles so most breeders will require you to put down a deposit and go on a waitlist.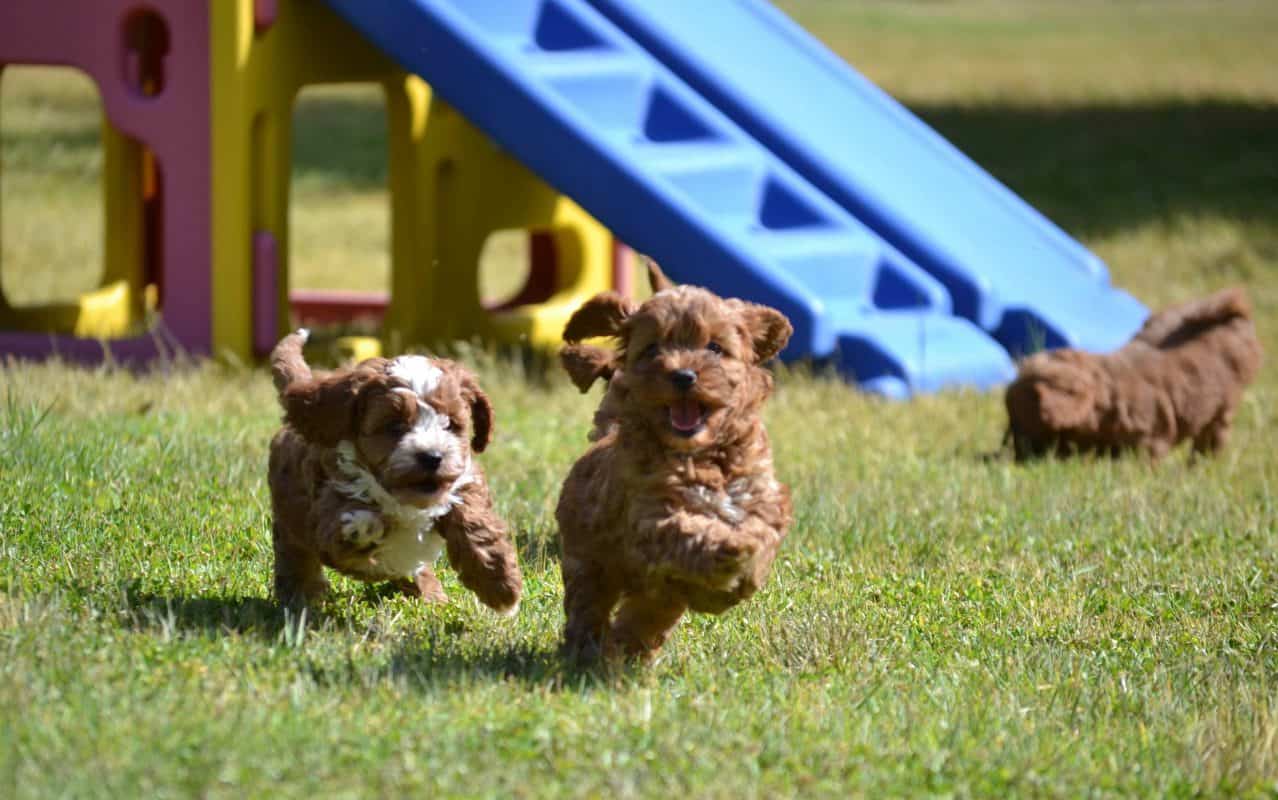 Do lots of research on breeders and choose one that is registered. Ask them lots of questions, visit the home the puppies live in and trust your instincts. Only buy from breeders that treat their dogs well.
Most breeders will sell their puppies when they are 8-12 weeks old. By then, they should have already seen a vet and received their first vaccinations.
Adult Groodles
While it is rare, you may be able to adopt a pet spoodle from a shelter or rescue organisation. This gives an older dog a second chance at a happy life.
Adopting an older dog is cheaper than buying a puppy and typically costs around $500. This covers them being desexed, microchipped, vaccinated and checked by a vet.
SPOODLE BREEDERS AUSTRALIA
SPOODLE BREEDERS NSW
Southern Highlands
Website: https://www.springbankspoodles.com.au/
Barham
Website: https://rivergumpuppies.com.au/
Goulburn
Website: https://www.rubyleighdesignerdogs.com.au/
Inverell
Website: http://www.oakiespuppies.com.au/
Cottage Canines Australia
Sydney
Website: http://www.cottagecanines.com/spoodle.html
SPOODLE BREEDERS ACT
Canberra
Website: https://www.charlieoodles.com/
SPOODLE BREEDERS VIC
Strathtulloh
Website: https://www.chevromist.com/
Regional Victoria
Website: https://www.ameyspuppies.com.au/
Gisborne
Website: https://macedonrangesspoodles.com.au/
Gippsland
Website: https://www.valleyviewdogs.com/spoodles-for-sale.htm
Willung South
Website: https://billabongcreekfarm.com.au/
SPOODLE BREEDERS QLD
Bogan Moodles and Spoodles
Sunshine Coast
Website: https://www.facebook.com/Boganmoodles/
Diamond Valley
Website: https://dvkennels.com.au/
Brisbane
Website: https://www.facebook.com/BespokeSpoodles/
Pine Hill Oodles – Spoodles and Cavoodles
Boonah
Website: https://www.facebook.com/Pine-Hill-Oodles-Spoodles-and-Cavoodles-101973277830650
SPOODLE BREEDERS SA
Adelaide Hills Cavoodles and Spoodles
Adelaide Hills
Website: https://www.facebook.com/Adelaide-Hills-Cavoodles-105870090898833/
Adelaide Cavoodles and Spoodles
Adelaide Plains
Website: https://www.adelaidecavoodles.com.au/
SPOODLE BREEDERS TAS
Tasmania
Website: https://www.facebook.com/Spoodles.Furever/
SPOODLE BREEDERS WA
Perth
Website: https://www.facebook.com/Western-Park-Spoodles-276475122683878/
Perth
Website: https://www.facebook.com/Spoodlesatsalentofarmperth/
Mount Lawley Pets and Puppies
Inglewood
Website: https://www.mountlawleypetsandpuppies.com.au/
All About Pups (formerly ACA Pups)
Osborne Park
Website: http://www.acapups.com.au/
SPOODLE BREEDERS NT
Darwin
Website: https://ntoodles.com/
Related Articles
References
https://www.purina.com.au/en/dogs/breeds/spoodle#.YJs5hrUzaUlhttps://www.paw
shake.com.au/blog/spoodle-dog-breed-information