Autumn is officially here. So, for those who are still planning what to do, we suggest you continue reading below. It's time to pick up those rakes and do some cleaning, not inside your homes, but outside! Then again, when pets are in the picture, cleaning might not be easy. That is why we have come up with these tips.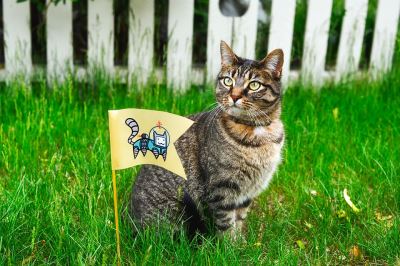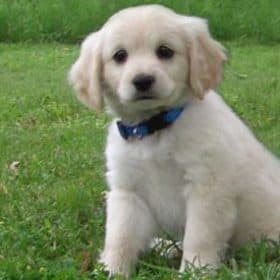 1. Set things aside.
Do not allow your beloved four-legged buddies to come in contact with dangerous chemicals. They should be kept in their appropriate storage areas. Below are some of the objects in your lawn that you should set aside.
Insecticides – These insecticides are useful to keep pesky insects and pests at bay. Despite their uses, they are considered toxic to pets.
Herbicides – These are used to get rid of weeds. Though most of them are poisonous, their levels of toxicity may eventually vanish after application.
Vermin Baits – Because of its strychnine content, vermin baits are considered extremely poisonous.
Mulch – If ingested, mulches can be safe. But there is one mulch type that is considered toxic. It is the one that is made from cocoa beans, which are the primary ingredients of chocolates.
Fertilizers – Even if they make our lawns thick and lovely, fertilizers are toxic when ingested in large quantities.
Snail Baits – Once ingested by pets, snail baits may lead to fatal seizures and tremors.
If you think your pet ingested something poisonous, contact the vet right away.
2. Start cleaning up.
Of course, pets do regularly mess up. Then again, there are plenty of waste bags out there that make cleaning fast and easy. Therefore, nothing should stop you from getting rid of pet wastes. If you leave any waste uncleaned, it could pose possible health threats for your pet and your family.
Aside from the pet wastes, you also need to collect all the debris, rock pieces, and woods that your pets may possibly choke on. This is especially important if your dog is a chewer.
Furthermore, check the vegetation in the yard. More often than not, poisonous mushrooms grow on your lawn. Considering that pets are naturally curious, chances are they might eat the fungi and be poisoned. Other plants are toxic as well. Thus, you might want to examine carefully.
3. Keep them secured in a dog kennel.
When cleaning your yard, you might want to consider your pet's safety. Secure them in a playpen or a reliable dog kennel. But remember that when securing your pet, consider his size. The larger they are, the taller the kennel you might need.
If you want, you can also keep them indoors. Isolate him in a pet-proof room to ensure he does not cause any damage to your furniture pieces and carpet. However, be sure you leave his favorite toys with him to keep him entertained and happy.
4. Keep them cool.
Like humans, pets are susceptible to heat. Hence, it is ideal to house your pets in a shady area, especially if you want to keep them outdoors while cleaning. Do not forget to give him access to clean and fresh water, too. That way, you keep him hydrated.
5. Determine other hazardous objects around you.
Did you know that even the ripe fruits that have fallen to the ground, leaves, seeds, birdseeds, and twigs can be extremely harmful to your pets? Yes, that is true. The tremorgenic mycotoxins, which are found in nuts, grains, and other decomposed products, may affect your pet's neurological system. When they are ingested, they could result in poisoning. The best way to avoid this from happening is to keep your yard waste in secured containers.
In addition, plants that do not have leaves pose a hazard to your pet's eyes. Take note that your pet enjoys running and playing in the yard. So, it might be a wise idea to secure the plants in another location until their leaves sprout. By doing that, you are preventing your pet from hurting himself.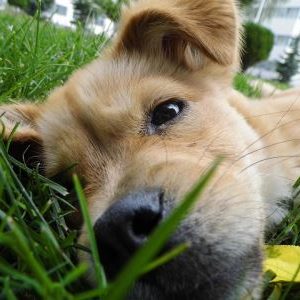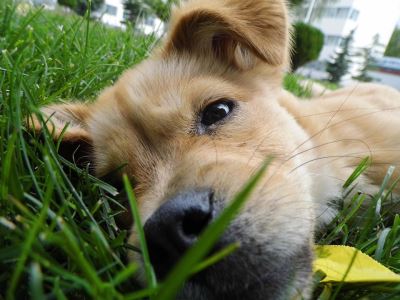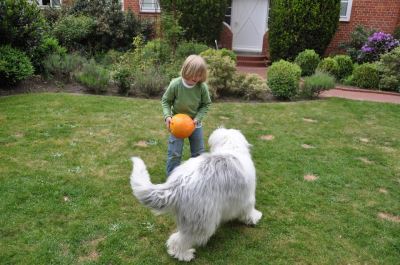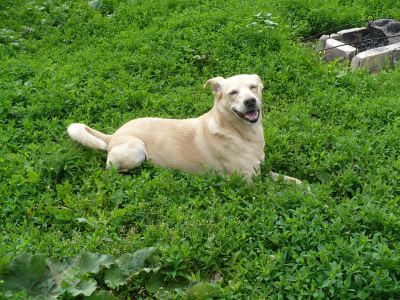 Bonus Tip
Things happen. While cleaning your yard, your pets may find a way to escape out. Just in case that happens, be sure your pet has a collar around his neck and an updated tag with your complete name, address, and contact details.
It is also not a bad idea to microchip your pets. These chips are usually injected under your pet's skin, so that when he accidentally gets lost, the person who finds him can easily contact you.
By knowing what to do, you should be able to make your yard a safe haven for both your pets and family. After that, you could comfortably enjoy the entire autumn season! But if you think these tips aren't enough, do your assignment and research. The Internet is a great tool to begin with. You can also seek advice from your vet and from local pet breeders. Or else, comment your questions below. We are more than happy to help you!
Image Sources: [1] [2] [3] [4] [5] [6] [7]