We all know that cats are very active and playful when they are still young. Even in their adult stage they are still active.
It is not common to cage cats and you only see caged cats usually on pet shelters or pet shops. Caging cats or is not really advisable, but sometimes they need to be caged for some reasons. Here are the common reasons when and why they should cage their cats.
Litter Box Training
Using the litter box is usually instinctual to most cats, even to those who have not even seen a litter box in their life.
Other cat breeds, on the other hand, are usually worse when in contact with a litter box and this is because they might have learned some bad litter box habits from other cats, usually their fellow housemate cats or even their mother.
Some cats think that a litter box is just a decorative item and their best bathroom is behind the furniture or even the carpet.
This problem can be solved if you cage the young cats or kittens. It is advisable to have a cage just big enough for everything they need, food, water and their place to sleep and don't forget the litter box.
This will force these kittens or young cats to use the litter box and it will become a good habit for them. And by six to eight weeks of their age, they are now ready to be released into your house without worrying about your kitties taking a bathroom break everywhere.
Taming Ferals
Feral cats are felines that live on the street, which are usually abandoned by their owners or usually just street cats that always avoid human contact.
Some feral cats usually get aggressive and may scratch or bite you if you go near them while others will just run away and avoid you.
The idea behind caging feral cats is to reintroduce them to domestic life and for you to socialize with these cats. If given time, these feral cats will learn to accept and trust you.
Always remember that caging feral cats is just a temporary thing. You should not keep them inside the cage for all their lifetime. People usually release these feral cats inside the house once they are sure that the cats are well behaved and they will not hurt or bite the owners.
Quarantining
Quarantining pets is a very beneficial practice to pet owners who has more than one pet with the same  species. This practice is usually done to prevent contagious diseases from spreading into your other cats.
If one of your cat has shown some symptoms of some sickness or disease, it is advisable to quarantine them as soon as possible inside the cage. Observe their behaviour and check on their condition regularly.
And don't forget to ask your local veterinarian for advice regarding your cat's current condition.
Quarantining a cat should be at least two weeks minimum and if no other symptoms have shown up it should be at least four or 6 weeks maximum.
New Cat Introduction to the Household
So what if you already have a cat in the house, or even some other cats that you own inside your house, and decided to get a new cat or a kitten. Your old cats might spray on the new cat as they see them.
This is because cats are also territorial and your house is their territory. What can you to do avoid a big fight if your new cat is let loose inside the house? You should cage the new cat first.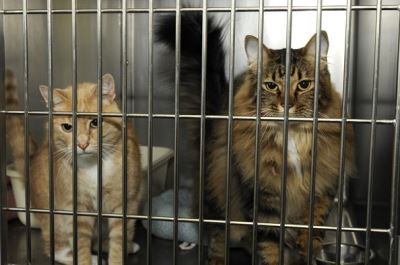 Cage the new cat as you introduce them to the cats you currently own. This will prevent injuries if they ever start a fight and is also a less threatening way for those cats who owns the territory.
It all depends on how your cats respond to the new cat. If they look like they have accepted the new cat as part of their own group then try to release the new cat. This process will take a lot of time, but the rewards will last a lifetime. Just remember that patience is the key and don't rush things.
Penning and Crating
If you have a cat or cats that usually vanishes from time to time and you might get worried where they wander if they disappear, then temporarily penning them or crating them is the solution. Always remember that this is temporary and is only done for them to behave or to stay inside the house all the time.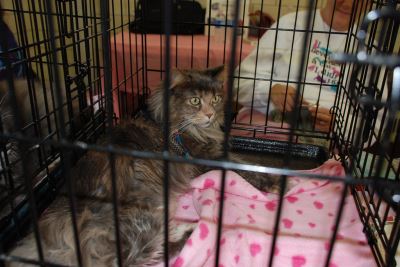 Crating cats is also a way of travelling with cats and is usually done during the travel to the vet. You can't just let your cat loose inside the car while you travel, for it may cause some distractions on you or the one who is driving, which may lead to accidents. Cat carriers are a must have for every cat owner.
Do you think these reasons are enough to cage cats sometimes? Let us know by leaving comments below.
Image Sources: [1] [2] [3] [4] [5] [6] [7]